Still not sure which football academy best fits your child's training and developmental requirements? Whether your child is playing for the leisure of the sport or working on long-term career goals, consider Kaya FC Academy and its impressive roster of coaches. The academy does not only gather names and figures from the local football leagues and foreign clubs; it brings together a solid team of professionally committed and highly experienced coaches that can deliver the best football training you can expect. Our combined years of football knowledge and skills enable the academy to teach, develop, and transform students so they can achieve their greatest football potential.
Those at Kaya FC Academy know that it's not just about playing the beautiful sport—it's about learning football from those who know it best and love it the most.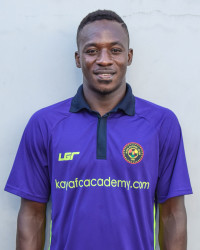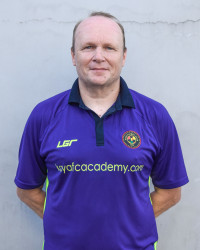 Chris Greatwich, Academy Director

A Filipino British veteran of numerous football teams and associations, Coach Chris has progressed from the UK playing field to the service of the Philippine national football team and continues to stand as a dedicated player and academy director for Kaya. Not content with playing football, his commitment to the sport extends to his leading the academy and launching various campaigns aimed at getting the youth interested in pursuing football. With his professional experience and sports science training, the curriculum is essentially focused on progressive training and ultimately maximizing the students' football training at each skill level.
Coach Chris relishes great moments on the field, just like the ones with football legends David Beckham, whom he met in the friendly against LA Galaxy, and Paul Scholes, his Clear Dream Match "teammate." Given the opportunity, he may have shared his favorite fish-and-chips with his fellow Brits. Still, Chris can and does share his time with the regular CSR work that Kaya FC jointly conducts with the LBC Foundation—admittedly, time well spent and shared with those who need it more.
Inaki Vicente, General Manager

With the commendable depth of his playing career and coaching experience, Coach Inaki deserves greater respect in the football world. Even before the onset of the Azkals' popularity, Inaki has been demonstrating his football prowess in NCAA games (circa late '60s), national team (youth and senior) games, and Asian/international games in addition to, later on, supporting local FCs. With more than a decade's worth of field experience, he is unstoppable, and remains with Kaya FC to coach various youth groups and levels.
His dedication to Kaya FC is admirable, and while being part of the national team will always be memorable, his football highlight is "winning UFL Youth U17 Championships as a coach."
Paulie Dumagan, Coach

Based in Manila and raring to coach, Paulie combines about seven years of football experience across various UFL clubs. Starting out with the University of Makati football team and later with Kaya FC Elite, he has gained ample football knowledge and techniques from local endeavors and matches. This homegrown talent considers playing in the first division football league in the country a stellar achievement, one that cannot be denied. Being with the academy coaching staff is an awesome opportunity for him not only to help develop quality football players but also to spread the inspiration to the youth—the same inspiration that got him to where he is now.
Gerald Maldo, Coach

Gerald brings with him years of football experience from, interestingly, all over the country. Back in 1999, he was selected to be part of Coke Go for Goal (Bacolod) and has since participated in games and leagues that have brought him to Naga, Iloilo, Cagayan de Oro, Davao, and Cebu (Philippine Army). If that isn't enough, he started coaching in 2010 (FIFA grassroots, Davao) and later went on to Far Eastern University, Team Socceroo, and then Kaya. We can surely expect a well-rounded coaching style from one of our local talents, as well as travel tips from someone who is proud of and well acquainted with his roots.