Schedule this week remains unchanged.
KAYA TOTS AND KICKERS
For the Monday program, we would like to remind the parents and their helpers to participate with the children and assist the coaches during the session. We have observed that in recent weeks, parents/helpers have been getting less involved. In order to get the best out of the session, we encourage the parents/helpers to participate with the children.
D-SERIES
We would like to remind everyone that there will be a D-Series game on Sunday, June 19, at the Gatorade-Chelsea Blue Pitch, Circuit Makati. Our U8s (year born 2008–2009) and U10s (year born 2006–2007) will once again participate in the D-Series.
If you wish to participate and be considered, please reply to this e-mail or e-mail us at info@kayafcacademy.com with your child's complete name and birth year by 12:00 p.m. (midday) on Thursday, June 16. 
UFL YOUTH
All our teams will play this weekend, the final week of the UFL Youth League! Details of the games will be sent out this week, and it would be great if everyone came out to support the players. Let's all come together and cheer them on as they finish off the season!
U9s vs. Agila MSA in the final

U11s vs. Loyola in the third-place play-off

U13s in the plate final

U15s vs. Global in the third-place play-off

U17s vs. Global in the final

U17 girls vs. LMS third-place play-off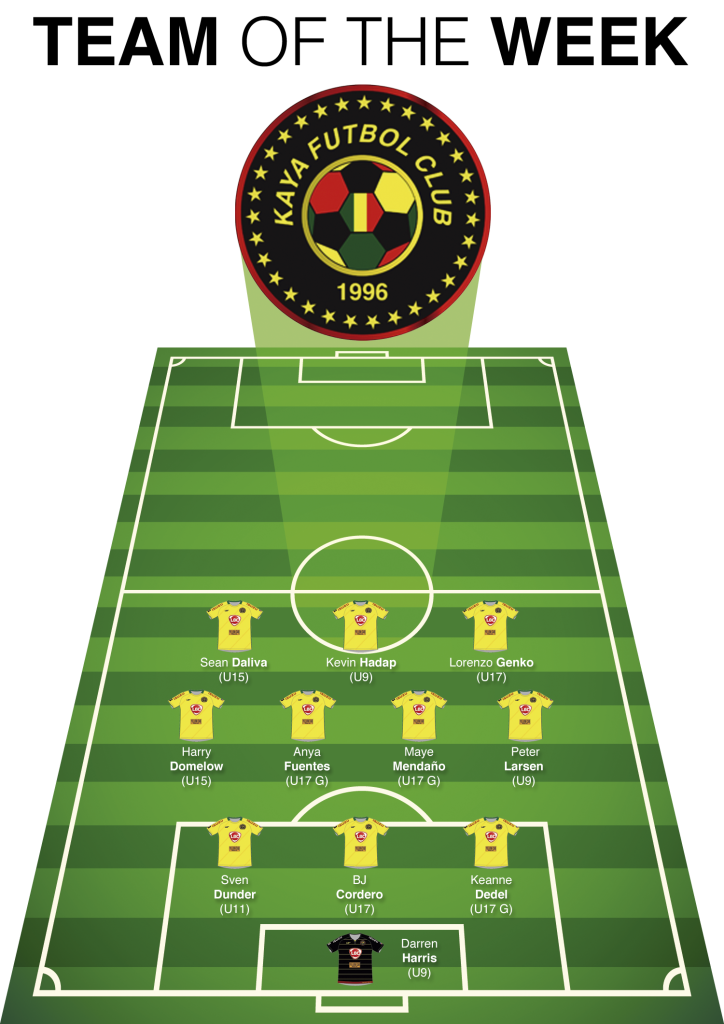 GK: Darren Harris (U9). A consummate performance from the young custodian in their terrific 2–0 win.
DF: Sven Dunder (U11). Despite the loss, Sven worked tirelessly for his team in defense and in the midfield.
DF: BJ Cordero (U17). Another dominant display from the center back in their 3–0 semifinal win.
DF: Keanne Dedel (U17 girls). Fresh from her exploits with the Philippine U14 girls national football team, Keanne organized her back four brilliantly in a tight game versus Forza.
MF: Harry Domelow (U15). Harry covered every inch of the field in his team's narrow semifinal loss.
MF: Peter Larsen (U9). Peter continues to dominate the midfield with another top-class outing. 
MF: Anya Fuentes (U17 girls). Another standout in the U14 NT, Anya showed her excellent form in their semifinal clash versus Forza.
MF: Maye Mendaño (U17 girls). Alongside Fuentes, the two ran the midfield.
FW: Sean Daliva (U15). The young forward led the line superbly for Coach Diego's team.
FW: Kevin Hadap (U9). Kevin showed why he is one of the most skillful players in the UFL with an excellent technical display. 
FW: Lorenzo Genko (U17). Two goals in the semifinal saw Lorenzo's hot streak continue as they head into the finals for the fourth straight year.