SCHEDULE
Schedule this week remains unchanged. 
D-SERIES
We would like to remind everyone that the D-Series continues on Sunday, May 22. Yes, every Sunday (for the whole month of May), we have games at Gatorade-Chelsea Blue Pitch, Circuit Makati. Our U8s (year born 2008–2009) and U10s (year born 2006–2007) have been participating in the D-Series since the start of the month. This is also open to UFL Youth players, especially those who are in need of additional game time. 
If you wish to participate and be considered, please reply to this e-mail or e-mail us at info@kayafcacademy.com with your child's complete name and birth year on or before 12:00 p.m. (midday) on Thursday, May 19. 
Reminder: Those who sent us an e-mail earlier will have to send us an e-mail to reconfirm their participation. We will do this weekly to ensure attendance every Sunday.
Details and reminders:
Schedule: 2:00 p.m.

Call time: 1:30 p.m.

Please bring your yellow uniform, white shorts, white socks, shin guards, boots, session card, and plenty to drink.
TEAM OF THE WEEK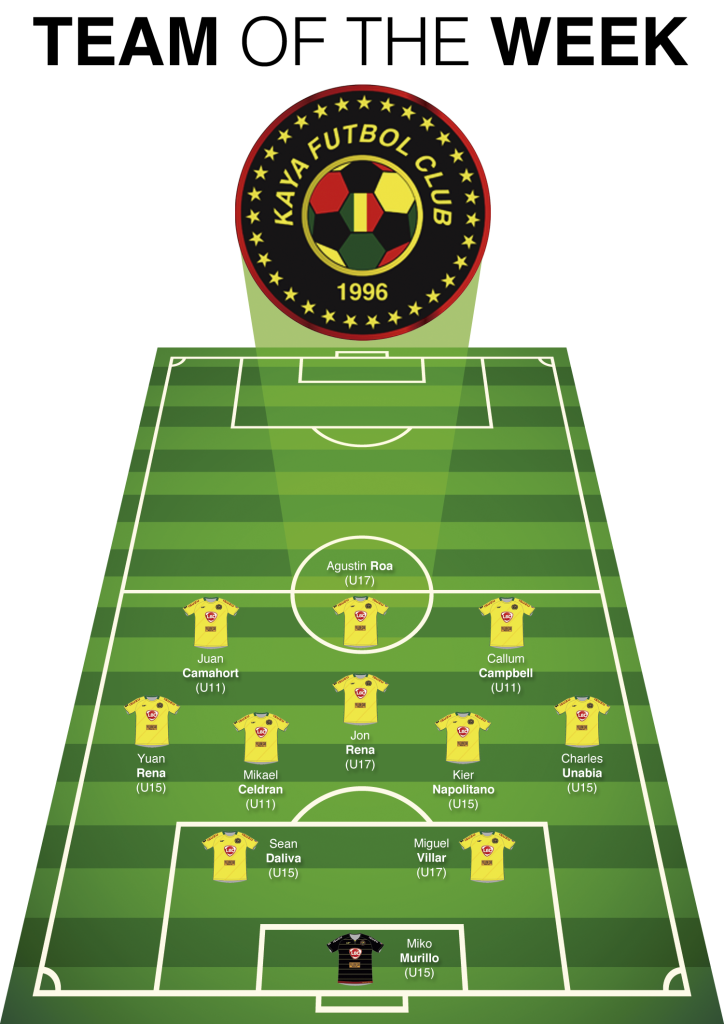 Goalkeeper
Miko Murillo (U15). With his encouraging and confident display between the posts, he organized his back four superbly. 
Defenders
Sean Daliva (U15). An assured performance at the back from the young defender.
Miguel Villar (U17). The right back was up and down the right flank in the 19–0 win.
Midfielders
Charles Unabia (U15). The right midfielder was instrumental in his side's 3–2 win versus Ceres.
Kier Napolitano (U15). The holding midfielder dictated the play from the middle of the park.
Mikael Celdran (U11). Hard working and industrious, he scored the first goal in the 3–1 win over Forza.
 
Yuan Rena (U15). A composed and hard working performance from midfield.
Jon Rena (U17). He was the main creator in the midfield in an excellent display.
Forwards
Juan Camahort (U11). He scored the third goal with an excellent bit of skill and a cool finish.
Callum Campbell (U11). An inspired substitution saw Callum score the go-ahead goal with a poacher's finish.
Agustin Roa (U17). The striker led his side in a landslide victory versus Forza.
GOTHIA CUP TRYOUTS
We would like to remind everyone that the next day for the tryouts—U11s and U12s only!—for the upcoming Gothia Cup China trip in August is on Friday, May 20. We will host the tryouts at British School Manila at 4:00 p.m. Tryouts are open to anyone, both Kaya FC Academy members and nonmembers. We are open to accepting players outside of the currently enrolled academy players, but players trying out must be serious about attending the tryout (no one coming out for a free training day). 
Important info can be found at www.gothiacupchina.com.
Other important info:
Slots: Only 10 spots available per age-group.

Age-groups: U11s (2005) and U12s (2004).

Format: 7-a-side tournament.

Dates: August 12–19.

Participation fees: Cost to be calculated upon confirmation of participants.