SCHEDULE
No Kaya Tots and Kaya Kickers today, Monday, but there is Elite training later. The rest of the schedule this week remains unchanged. For the UFL Youth fixtures, please visit kayafcacademy.com/fixtures or click here.
D-SERIES
We would like to remind everyone that the D-Series continues on Sunday, May 15. Like we mentioned, every Sunday (for the whole month of May), there will be games at Gatorade-Chelsea Blue Pitch, Circuit Makati. Our U8s (year born 2008–2009) and U10s (year born 2006–2007) will be participating in the D-Series. This is also open to UFL Youth players, especially those who are in need of additional game time. 
If you wish to participate and be considered, please reply to this e-mail or e-mail us at info@kayafcacademy.com with your child's complete name and birth year on or before 12:00 p.m. (midday) on Thursday, May 12. 
Reminder: Those who sent us an e-mail earlier will have to send us an e-mail to reconfirm their participation. We will do this weekly to ensure attendance every Sunday.
Details and reminders:
Schedule: 2:00 p.m.

Call time: 1:30 p.m.

Please bring your yellow uniform, white shorts, white socks, shin guards, boots, session card, and plenty to drink.
Goalkeeper
Ellis Campbell (U9). With his accomplished performance in goal, he made some good saves and very good distribution.
Defenders
Enzo Courbet (U11). Another stellar performance by Enzo at the heart of his side's defense versus PSG.
Saijer Madsen (U9). His second Team of the Week nomination, Saijer's composed defending is a joy to watch. 
Tomoyoshi Kondo (U11). Tomo put in another solid display and provided consistency at right-back.
Midfielders
Lorenzo Plaza (U9). Goals and assists galore from Renzo in his side's 7–2 win versus Agila. 
Ace Bana (U15). Ace put in a dominant performance in their win versus Forza.
Mizuki Nagata (U13). A solid midfield display from the Japanese playmaker versus Ceres.
Max Young (U9). Another two-time Team of the Week nominee, Max was ghosting past players and creating numerous chances.
Forwards
Sam Gawat (U13). An important goal from Sam led to his team's big win on the weekend. 
Razak Said (U13). His brightness in the final third was a decisive factor in his side's 4–2 win versus Ceres.
Kevin Hadap (U9). Kevin's goals and movement were a constant threat in a big win versus Agila.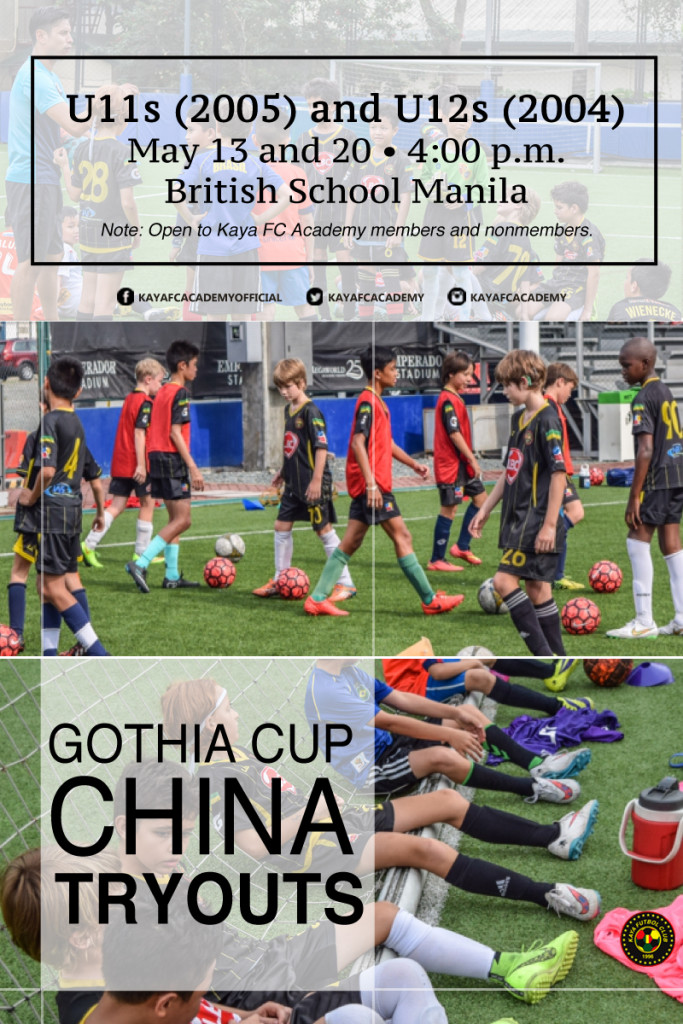 We would like to inform everyone that we have tryouts coming up for the Gothia Cup China trip in August. We will host the tryouts at British School Manila at 4:00 p.m. on May 13 and 20. Tryouts are open to anyone, both Kaya FC Academy members and nonmembers. We are open to accepting players outside of the currently enrolled academy players, but players trying out must be serious about attending the tryout (no one coming out for a free training day). 
Important info can be found at www.gothiacupchina.com.
Other important info:
Slots: Only 10 spots available per age-group.

Age-groups: U11s (2005) and U12s (2004).

Format: 7-a-side tournament.

Dates: August 12–19.

Participation fees: Cost to be calculated upon confirmation of participants.