SCHEDULE
Schedule this week remains unchanged. For the UFL Youth fixtures, please visit kayafcacademy.com/fixtures or click here.
D-SERIES
We would like to remind everyone that the D-Series continues on Sunday, May 8. Every Sunday (for the whole month of May), there will be games at Gatorade-Chelsea Blue Pitch, Circuit Makati. Our U8s (year born 2008–2009) and U10s (year born 2006–2007) will be participating in the D-Series. This is also open to UFL Youth players, especially those who are in need of additional game time. 
If you wish to participate and be considered, please reply to this e-mail or e-mail us at info@kayafcacademy.com with your child's complete name and birth year on or before 12:00 p.m. (midday) on Thursday, May 5. 
Reminder: Those who sent us an e-mail earlier will have to send us an e-mail to reconfirm their participation. We will do this weekly to ensure attendance every Sunday.
Details:
U8s: 
Schedule: 2:30–4:20 p.m.

Call time: 2:00 p.m.

Format: 5v5 (10 minutes straight, 10-minute interval per game)
U10s: 
Schedule: 2:00–4:20 p.m

Call time: 1:30 p.m.

Format: 6v6 (15 minutes straight, 10-minute interval per game)
Please bring your yellow uniform, white shorts, white socks, shin guards, boots, session card, and plenty to drink.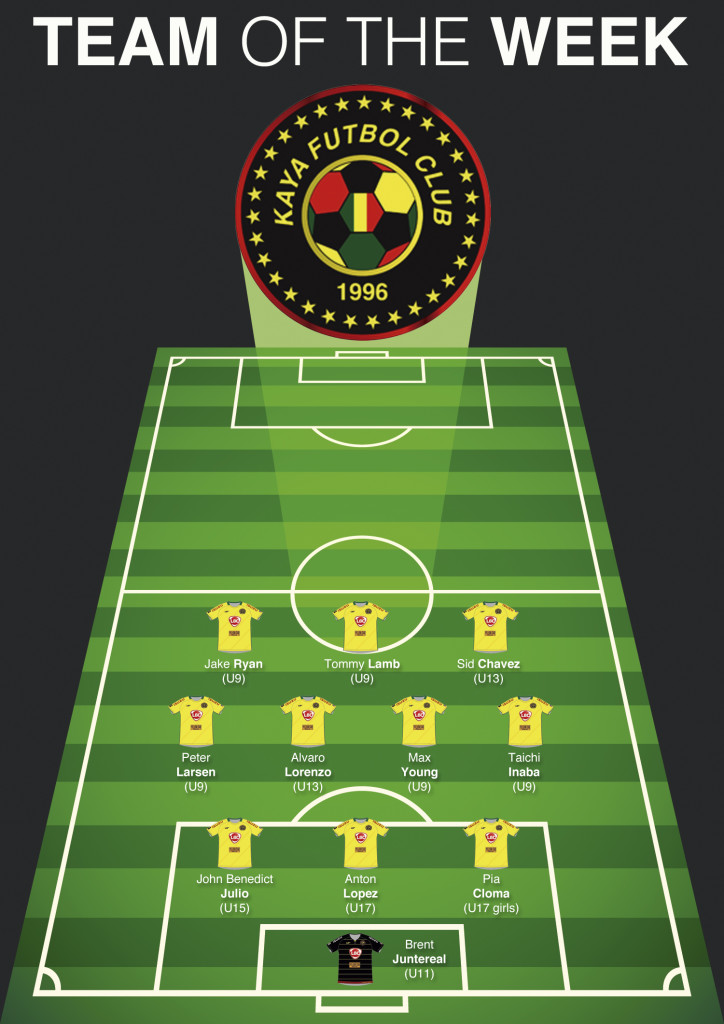 Goalkeeper: Brent Juntereal (U11). Not only did Brent excel in goalkeeping, but he also popped up with a few goals as a striker in the BSM Football Development Festival this weekend.
Defender: John Benedict Julio (U15). The defender starred in his side's 1–0 defeat versus LMS.
Defender: Anton Lopez (U17). A solid defensive display, he kept a clean sheet in a 6–0 win over Nomads.
Defender: Pia Cloma (U17 G). Pia organized her back line brilliantly in their 6–0 win over Global.
Midfielder: Alvaro Lorenzo (U13). Another solid performance from the midfielder! He dictated the play in the tough loss versus Nomads.
Midfielder: Max Young (U9). The magician was at the heart of the attacking play in the 13–1 win over Global.
Midfielder: Peter Larsen (U9). The young midfielder dominated the game with his energy and enthusiasm and scored a wonderful long-range free kick. 
Midfielder: Taichi Inaba (U9). An excellent outing at the BSM Football Development Festival, Taichi displayed his dazzling dribbling skills.
Forward: Jake Ryan (U9). Four goals! All instinctive predator finishes as Jake led the line for the U9s.
Forward: Tommy Lamb (U9). Tommy scored a brilliant hat trick, which included some spectacular finishes.
Forward: Sid Chavez (U13). Sid tirelessly worked for his side despite going down in a tough 4–0 defeat.