WELCOME 2016
Once again, we wish everyone a joyful and prosperous New Year! After another fantastic year for the academy in 2015, this year promises to be another great and fulfilling year for the club. Let's continue to reach for the stars and enjoy what the year has in store for us!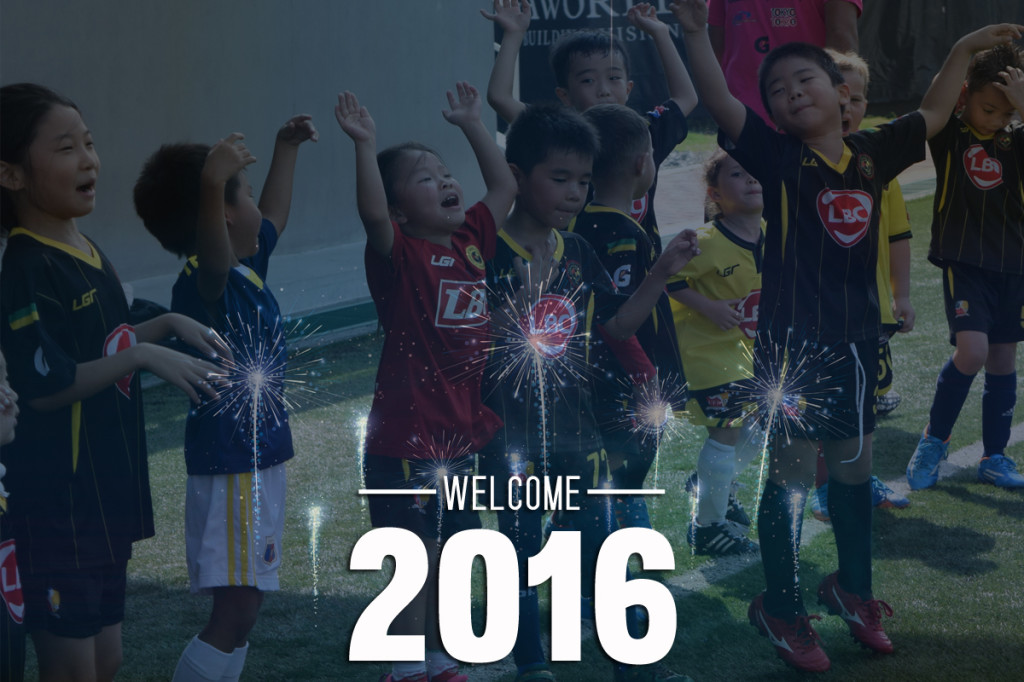 Following the introduction of our new director of coaching, Steve Nicholls, and the arrival of our programs director from Australia, Danny Perry, we are proud to add another full-time member to our coaching staff—goalkeeper coach Matt Acton.
Matt comes with incredible pedigree. Having played for Australia's U20 side as well as A-League team Brisbane Roar, Matt brings to our academy his goalkeeping skills and wealth of experience, which he hopes to pass on to the youngsters.
Also, Coach Louis returns after being away from the academy for a while due to an injury. He is excited to get back to working with the academy players once again.
SCHEDULE
There will be a few changes to the schedule now and in the foreseeable future. First, Wednesday and Saturday sessions will now be at Emperador Stadium (now called McKinley Hill Stadium) instead of Turf BGC. In addition, the Saturday schedule is now 8:00–10:00 a.m. Second, One World School sessions at North Forbes Village will resume next week. Third, Kaya Tots and Kaya Kickers every Monday at North Forbes Village will start on Monday, January 11, with a come-and-try session from 4:00 to 5:00 p.m. Come and join us! These programs for two- to seven-year-olds are the best introduction to football in a friendly, noncompetitive environment. (You may review the details here.)
Monday: Kaya Tots and Kaya Kickers (starting next Monday, January 11, 4:00–5:00 p.m. at North Forbes)

Tuesday

4:00–6:00 p.m. at Cuenca

4:00–5:00 p.m. at North Forbes (One World School only): OFF

Wednesday: 4:00–6:00 p.m. at Emperador Stadium
Thursday: 4:00–6:00 p.m. at Cuenca
Friday: 4:00–5:30 p.m. at North Forbes (futsal)
Saturday:

8:00–10:00 a.m. at Emperador Stadium

10:00 a.m.–12:00 p.m. at Cuenca (open play): OFF

Sunday: 8:00–10:00 a.m. at Emperador Stadium
PRICING
As we strive to stay at the forefront of football here in the Philippines, the academy has made a considerable investment in recent months in recruiting some of the best coaches to provide the best possible education for our players. By bringing in such high-caliber coaches and offering new programs, we want to establish our genuine commitment to delivering the best football training and experience in the country.
Given the increased costs, including the acquisition of high-level coaches, we have had to make some changes to our pricing structure. We want to keep offering you great value, so we have kept our prices as affordable as possible by making nominal increases as detailed below. Thank you for your continuing patronage and support.
2016 annual membership: P2,500
5 sessions: P3,500
10 sessions: P5,500
20 sessions: P8,500
To avoid any confusion down the road, everyone must reregister their annual membership for 2016, which already covers the new uniform. We will have some games arranged this month, so should players wish to participate, they must have the new yellow uniform.
Moreover, we will allow session cards purchased last year to be used (provided they were purchased within the past four months).
CHRISTMAS CONTEST EXTENDED
Yes, you can still win a signed Kaya shirt. The randomly selected winner will now be announced on January 10, 2016. It's your last week to join the contest! To enter the contest, click 
here
.