Kaya family,
Here are a few updates for this week:
Schedule
Rockwell venue has changed to the Guadalupe Viejo basketball court. A map to the venue is here:
http://wikimapia.org/7035029/Guadalupe-Viejo-Basketball-Court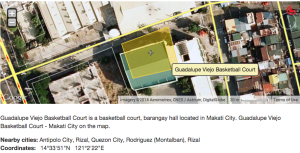 If you are entering Rockwell from EDSA, driving down Estrella St., turn right onto Gumamela St. (adjacent to the Manansala building) and the court is on he right about 100 yards up the road. It is a covered court so it should be on come rain or shine.
Sessions will now be 1.5 hours and will start at 3:30 p.m. until 5 p.m. and will start tomorrow.
We will confirm if Wednesday is on at Emperador Stadium by Tuesday.
The rest of the schedule is as per normal, with Forbes back on after the break for Halloween.
Chelsea Tournament
A quick reminder to those who haven't had their session card stamped from the tournament, please do so at your next session and inform Honeylet.
I think that is all for now. If you have any questions let me know and I look forward to seeing you all soon.
Una Kaya!