Kaya Family,
Here are a few updates for this week:
Schedule
Rockwell is still ON at PowerPlant Mall today. We will move to the new venue next week.
Wednesday again is OFF (unless we can regain the slot from UFL) at Emperador due to a UFL conflict.
Friday at Forbes is OFF due to Halloween.
The rest of our schedule is as per normal (Tuesday and Thursday are all ON at Cuenca while Saturday and Sunday are all ON at Emperador).
Chelsea Tournament: The Good & Bad
Firstly, I would like to congratulate all our participants in the Chelsea tournament for their hard work and endeavor, and for enduring the heat! We came out with 3 champions (U6, U10, and U12) and two runners-up (U10 and U16 Girls) and two semi-finalists (U8 and U12). I was extremely proud of our level of play and we have shared some pictures from the weekend on our Facebook page and Twitter account. For those of you who came (and the parents), thanks for coming on time and giving your best.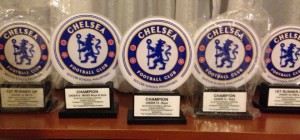 I would like to apologize to our U14s who were short changed with only two games when one team didn't show up, leaving you with delayed fixtures and only 20 minutes of football. When this happens, it spoils it for everyone, and those who only played two games will not be charged for the competition. In addition, one of our coaches used some choice language in one of the post-game team talks and he has been reprimanded so apologies if any of the children or parents witnessed that incident.
The last issue is a very, very important one, which I would like everyone to take note:
If you confirm your attendance and cannot play, for whatever reason YOU MUST LET ME KNOW. If you are attending a tournament, I expect full commitment for the duration of the tournament, and do not leave halfway through. If you have a following engagement, let me know and I will assign your spot to someone else. We had 9–10 players for each team so that players could get maximum playing time. When players do not show up, and leave teams short of players, it causes a logistical nightmare to have to move players from team-to-team at the last minute, and players we have said 'no' to could have played in the competition. For me, it is common courtesy to call or text me ahead of time that you will not be playing. In the future, if you do not intend to play please inform me prior to the event.
As we move forward, being committed to training and playing is integral to our success as individuals and as a club. To remain at the forefront of youth football in the Philippines and to develop players who can play at the highest level, we need to set our standards higher than everyone else both on and off the pitch.
I think that is all for now. Again, thank you so much for a great weekend of football. If you have any questions, please let me know.
Una Kaya!