Hello all,
I am finally back from international travels and excited to get back to see all of our academy players! Thank you for all your messages of support while the team and I were away. I hope you enjoyed how we played in our historic run to the Challenge Cup final.
We have a few schedule updates for this week so please take note:
This Friday, Kaya Elite training is

cancelled

because the UFL is taking the slot due to the Clear Dream Match training.
This week is the last week at The Camp for our summer program with June 6th being the final day.
We are waiting for the final confirmation regarding the play-offs for many of our teams so we will update you once the UFL confirm the dates/time/venues.
Other than this, the schedule is as per normal.
Kaya Elite
We had an excellent weekend of football by our Elite teams with our U19, U17, U15 yellow, U9 black all winning their games. Also a big congratulations to the U17 Girls yellow team for winning their first game of the season vs Loyola!
Upcoming Events
With the World Cup just around the corner, we will have a number of World Cup related activities/events to try to get everyone engaged and excited for the tournament.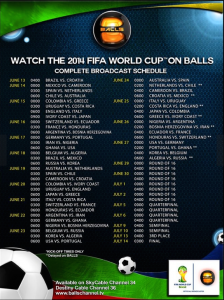 We will also plan to host a tournament for our Kindersoccer players later this month so please stay tuned for updates regarding the tournament.
I think that is all for now, have a great week and I will see you all out on the field.
Una Kaya!