Kaya family,
Here is a quick review of this weeks action as well as updates for the upcoming week:
Kaya Elite
Despite our U13 and 15 losing their respective games, our U9 black team picked up their first win of the season with an excellent 2-1 win. Goals from Miguel Lao and CJ Edge sealed victory for Coach Matt's team. Despite being drawn in the "group of death," his side have shown excellent attitude towards training and were rewarded this weekend with a win—congratulations!
U11 black won their game vs Xavier to put them back in playoff contention with a 2-0 win. Goals from Ozod Musaev and Gab Ong ensured victory for coach Paulie's team. Also check out U11 black player Diego Aspiras—this week's feature on our website. Click HERE to read it.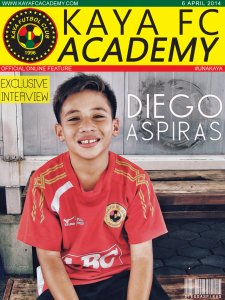 U11 yellow won in convincing fashion, defeating Nomads 9-0—with goals from Razak Said (3), Ben Zimmerman (3) John Zimmerman, Eric Almendral (1), and an own goal. Coach Diego's team has scored 16 goals in the last 2 games!
Coach Mike's U17s continued their 100% record with an 8-0 win with goals from Nino Herrera, Carlitos Mathay (2), Dan O'Reilly, Mark Tinio, Enzo Jalandoni (1) and an own goal.
Schedule
This week we continue with our training Monday to Friday at the Camp, as well as our sessions at Rockwell, Cuenca, and BGC. Please take note that training in Forbes is cancelled until further notice.
Elite players will train Monday and Friday at Mckinley Hill, 4-6 p.m.
Although April 9th is technically a holiday, we will still have training on that day.
Kaya FC men's
Congratulations to Nino Herrera, Rocky Plaza, and Cristian Zubiri who were signed to our first team squad following their performances in the Youth team. Well done to the three young men and the coaches for developing them and also showing our young players that if they excel within our academy system, you will get opportunities to play in the UFL for Kaya.
This week was a big week for our men's team as we beat our rivals Loyola, 3-1, to overtake them in the UFL standings. It was a big win for us, our fourth in a row and puts us right in the title mix. I was also pleased with the manner in which we won the game—aside from playing good football, we played with honesty, integrity, and passion which are all traits of Kaya FC.
It is important to remember that we are always representing Kaya FC. As players we represent the club not only on the field, but as parents on the sidelines, as students in the classroom or even as people on the street. In our game on Tuesday we set an example to our younger players on how to conduct ourselves on the pitch and I hope everyone else involved with the club will follow our example and continues to represent the club in a positive way!
I think that is all for now, have a great week of football and I will see you all out on the pitch!