Kaya family,
A couple of very important announcements:
Summer Program announced
This week we announced our summer program for the year with us holding sessions at the Camp, Taguig, Monday to Friday, starting March 31st and running until June 6th. The program is for boys and girls ages 3 to 16, and is split into two groups at two separate times:
Group 1 (kids ages 3-6 and 7-10) will go at 10–12 noon
Group 2 (kids ages 11-13 and 14-16) will go at 12–2 p.m.
This coincides with our regular sessions which still run on Wed & Sat (BGC) and Tue & Thu (Cuenca) and Rockwell for Kindersoccer on Mon. Elite sessions are TBC.
For more info on the program and discounts on early registration, visit http://www.kayafcacademy.com/2014/03/13/kayafc-academy-2014-summer-program/
New Skills Coach: OJ Porteria!
Kaya FC Academy pride itself on providing the best education to our young players and this week we are extremely excited to have OJ Porteria, Azkals and Kaya FC striker, join us as a specialist skills coach. OJ's role will be to improve the technical skills of our players, much the same as Coach Drew has been doing in his Futsal classes. OJ is renowned for his incredible foot skills and is really keen to pass on his knowledge to our youngsters!
Schedule
As mentioned earlier in the week, Sunday session is cancelled due to the UFL reclaiming the Sun 8 a.m. slot. The rest of our schedule is as per the website. Also on the website is the UFL Youth League fixtures for the weekend so please check that out so you know where to go.
Also a lot of you are asking, "If we have a game, do you still have to practice on that day?" The answer is "No, you don't have to practice," but we will let you decide if you think your child can train and play a game on the same day. Many can, and if you feel up to it, no problem. However, you won't be punished if you decide to stay home and rest before a big game.
Weather
Please can everyone be mindful of the fact that it is getting very warm so please make sure your child has enough drink to last the sessions/games. The last thing we want is dehydrated children so please make sure the have plenty of drink.
Clear Dream Match
Lastly, as you may know, the Clear Dream Match has been announced for June 7 and it features two of Manchester United's legends, Paul Scholes and Andy Cole. Many Kaya FC players (and academy coaches) have been nominated as potential players but we need to be voted on the teams! We need your votes! 
If you guys could take 2 minutes to vote for Masa, Drew, Toshi, Nick, Kenshiro, OJ, and myself that would be a great boost to us and our chances of playing. In return, the person who votes the most has a chance of seeing the game live, as well as winning tickets and flights to the World Cup itself in Rio! Please follow the simple steps and vote at http://www.cleardreammatch.com.ph/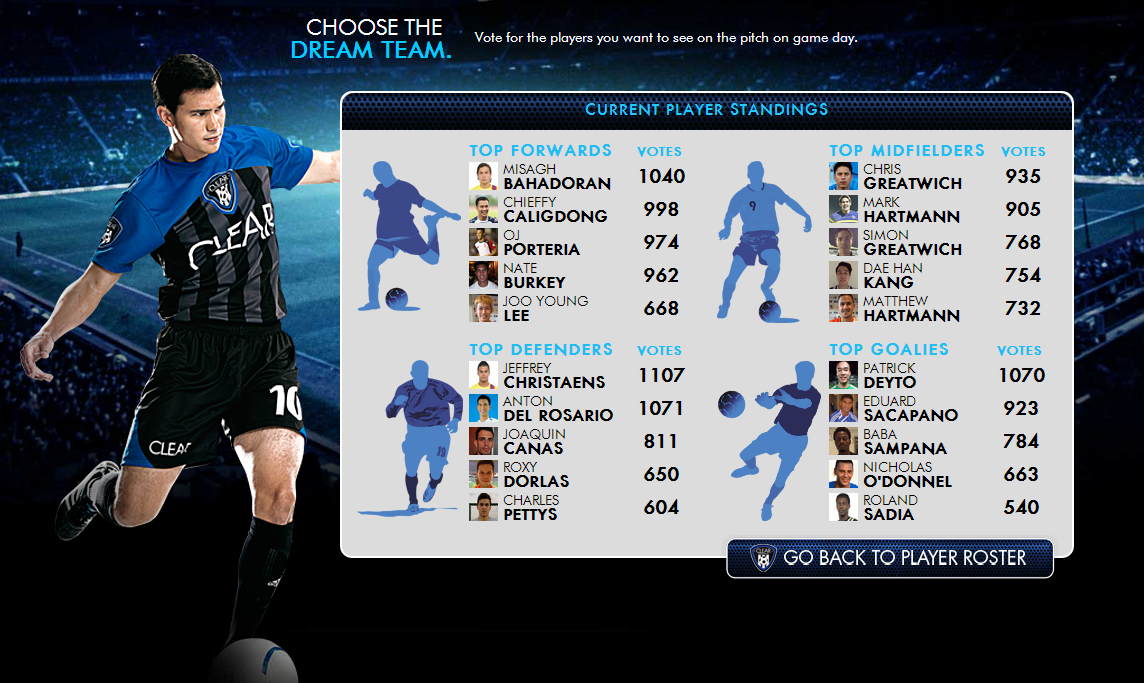 I think that's it for now, have a great weekend and I'll see you out on the field.