Kaya family,
Here is a quick review of all the events of the past week:
Summer Schedule
We will be announcing this week our Kaya FC Summer Academy schedule which is set to start this April. We will run sessions EVERY WEEKDAY to give your kids the chance to really improve their technical skills over the holiday period. The sessions will be at The Camp in Taguig, an excellent indoor turf facility so kids will be able to get out of the summer sun and enjoy some football fun!
Additionally, our Elite schedule will be released with specific training days this week.
UFL Youth
The league is fully up and running and it was a baptism of fire for a few of our teams! Our U9 Black team suffered a defeat at the hands of a very strong MFS outfit, and our U15 Black team also lost to Pasargad. Our U19s lost 3-2 to GAU despite dominating for most of the game. Goals from Mikel Maniquis and Joey Arenas were not enough to overcome some defensive errors that would prove costly for Coach Jaypee's men. Our U11 yellow team tied 1-1 with Xavier, with the lone goal coming from Man of the Match Alvaro Lorenzo. Coach Diego's team once again played some beautiful football but struggled to crack a resilient Xavier defense. Our lone victory came from Coach Alan's U9s with a 3-2 decision over Diliman. Goals from Mikel & Teo Celdran, and Riku Diaho got the team up and running with the perfect start.
Although it was a tough first weekend, last year if you recall, we also had a similar start and ended up with one of the most top four finishes out of any club. All of our teams will see dramatic improvements over the course of the next 3 months and I am sure it will be a positive experience for you and your children.
U19 WFL
Our U19s are perfectly poised to take the WFL title with a 1-0 first leg win vs Xavier. The second leg will be this Friday, 10 p.m., at Emperador so if you can make it, please come out to see our boys compete for another title. Following their youth WFL title last year and the U17 UFL title last year, winning the WFL adult competition would be an amazing achievement so if you can make it, come out and support the future of Kaya FC.
Schedule
This week we have more UFL games and the fixtures are on the website at http://www.kayafcacademy.com/fixtures/ We anticipate the full schedule to be released soon.
Sunday is once again CANCELLED as the UFL has again claimed this slot. The rest of the academy schedule is per normal.
Japanese Connection 
Kaya is truly an international academy and Miji has once again come up with a brilliant article on two of our young Japanese stars, Ryogo & Kento: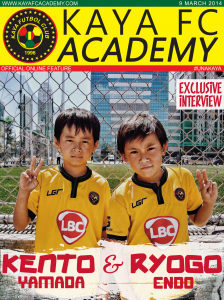 You may read the full feature at http://www.kayafcacademy.com/2014/03/09/field-trip-ryogo-kento/.
The two boys epitomize how Kaya can help bring together people from different cultures and walks of life and be unified in the joy of playing football. Thanks boys for doing the article and thanks also to Miji for putting it together.
I think that's it for now, have a great week and I'll see you all out on the pitch!
Una Kaya!