Both born in Japan, 10-year-old Ryogo Endo and 9-year-old Kento Yamada have lived in Manila about half their lives. Having joined Kaya Academy about a year ago, they've mastered the pitch, the techniques—and made a lot of new nakama ("friends") along the way! They make training day just as fun as a family day—and why not? For Ryogo and Kendo, going to the academy is just like taking a field trip! Let's bow to that.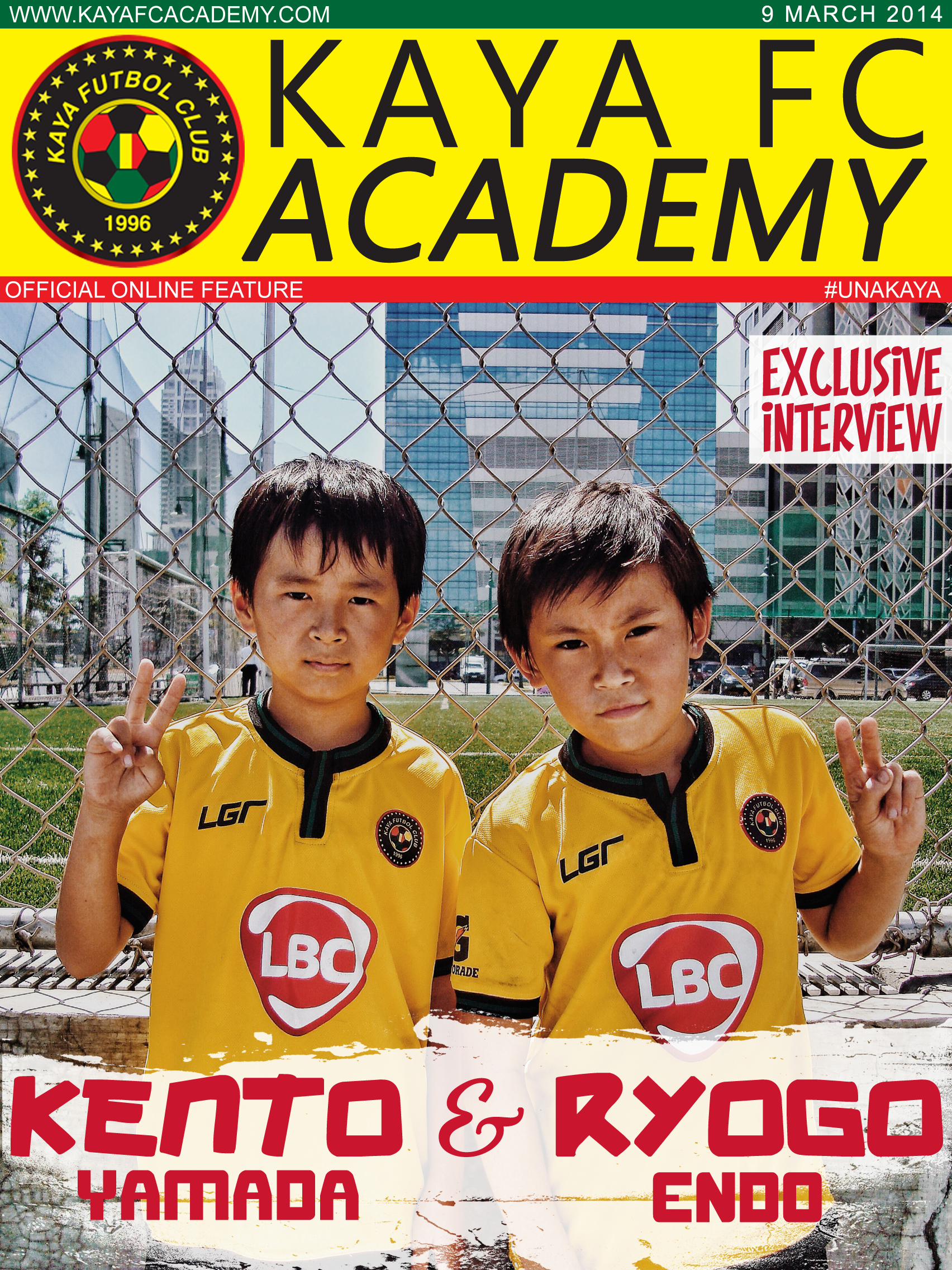 Konnichiwa!
Being such great friends—their families are too—Ryogo and Kento have so much in common! They both attend the Manila Japanese School and join training twice a week, aside from being members of their school's football club. Their families moved to the Philippines about five years ago, so they wouldn't be considered new to the country—and even until today, they are highly fond of Filipino hospitality. No wonder they enjoy it here!
Ryogo names Manila as his favorite local spot, while for Kento, he goes for the more distant Boracay. Finally, divergent choices! Seems that the kids have a lot to share, so it is time to get to know these sakka ("soccer") kids of the academy.
Ryogo Endo
Ryogo is a fourth grader at the Manila Japanese School. He has been at the academy for over a year now, and he seems to enjoy it so much since his position is striker, which explains why his favorite football player is Lionel Messi, and obviously, he roots for Barcelona. When not training or in school, Ryogo likes to go swimming—and so it would come to no surprise that this boy loves to be active, and his favorite subject in school is PE! Just like former coach Masa Omura's favorite. A bit of trivia: it was Masa who introduced the kids of Manila Japanese school to the academy. Arigatou for that, Masa-san!
Kento Yamada
Kento is a year younger than Ryogo, so that makes him a grade 3 student at the Manila Japanese School. He has a younger brother also enrolled at Kaya FC Academy but placed in a different playing level—so every training day for the Yamadas is certainly like a family day, parents included in the fun! Kento loves math, and he plays midfielder when in training. For Kento, it's Cristiano Ronaldo who is his favorite player, making Real Madrid his favorite La Liga team. Seems like the Spanish players really appeal to these young kids. At this rate, Kento might learn Spanish even faster than Filipino!
When I Grow Up
The boys have been training at the academy for a year, more or less. Ryogo has been there a bit longer, but then again, he's a year ahead of Kento. Watching them play shows how serious they are at getting better in football. They really try their best to learn the moves and tricks from their coaches and are hardworking when they practice. It's quite nice to see their parents supporting them from the sidelines. Imagine how much livelier it would be if more of their classmates became part of training! That would be quite a Manila-Japan cheering squad!
Both Ryogo and Kento aspire to become pro football players in Japan in the future, and we support them in their ambition. The academy seeks to bring people together from all backgrounds and walks of life because football is truly a unifying force and a common language. As football is a team sport, this sense of belonging is key to both collective and individual success.
It's great that they started early and chose Kaya FC Academy to lead them to their goal. So the pressure is on Coach Chris to get them in tip-top pro shape in no time! This means brushing up on Japanese as well! Ikimashou!