Kaya family,
I hope you are all well and enjoying your extended weekend! This post has some very important information regarding our summer program—it's long, but please read carefully!
Kaya Elite Summer tryout dates
For those of you looking to try out for our Kaya Elite UFL Youth teams this summer, we will be holding our tryouts on the following dates:
Feb 8 & 15 (BGC, 10 a.m.) & Feb 9 &16 (McKinley Hill, 8.a.m). These will coincide with our regular Sat & Sun training sessions. For those who cannot attend weekend sessions, you may tryout on Feb 5 & 12 (BGC, 4 p.m.).
The age groups for the teams are as follows:
U9: Girls & Boys born 2005 or later
U11: Girls & Boys born 2003 or later
U13: Girls & Boys born 2001 or later
U15: Boys born 1999 or later
U17: Boys born 1997 or later
U17 Girls: Born 1997 or later 
Players must be registered by us with the UFL by Feb 20, meaning over the next couple of weeks we will begin to issue players with the registration forms. These must be completed and handed to us (hard copy preferably) asap.Our coaches have identified players they wish to have on their rosters and will begin the selection process this week.
In order for players to be eligible to play for the Kaya Elite teams, players must:
Be a registered member of Kaya FC Academy (paid registration fee)
Provide a passport-sized photo
Have a copy of their proof of birth (birth certificate or passport)
In addition to this, there will be an Elite registration fee (separate to the registration fee) to cover the cost of league fees, additional uniform (we will need a change of color this season) which will be announced after tomorrow, which is when the UFL Youth committee will meet to discuss various issues. I will look to announce the fee asap.
While I understand that our tryouts are very early this year compared to last year, the anticipated start date of the League is March 8 and is set to run until end of June. This means that we have a small window to prepare the kids for competition and as such, if you want to be considered, you cannot simply wait until the summer to join the program. Please ensure you make yourself available on the dates above, and if, for any reason, you cannot make these dates, please inform me asap if you wish to be considered for the Elite team and I will do my best to organize some other means of assessing you. However, as stated previously, players who have consistently trained with us will have an advantage over those who come for a one-off tryout.  
Schedule
We have had some questions over cancelled sessions/ venue times, etc. recently; however, our complete schedule for the year is on the website:
http://www.kayafcacademy.com/schedule/
This is the schedule for the entire year and any amendments will be announced by me via email or Twitter. If you don't hear anything, practice is as per the schedule.
Miji's Feature
This week's feature from Miji goes into the amazing story of Oby Pistis—one of our girl-only stars, who has football in her blood! For her amazing story of her and her Italian professional footballer father, check out the feature at http://www.kayafcacademy.com/2014/02/02/la-mia-storia-del-calcio-english-football-story-oby-pistis/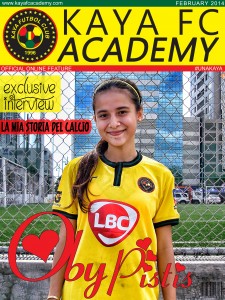 I think that's it for now—as ever, any questions let me know and I'll see you out on the field!
Una Kaya, Kids!