Kaya family,
As we go into the final week of the first month of the year, we have some important updates to give you:
Kaya Elite
This week, the UFL Youth committee met, with the proposed start date for the league being March 8th until June. In order to be eligible to play all players must be registered by February 20th. This leaves the coaching staff a little over a month to assess our squads, offer positions, and finalize the rosters.
We will announce tryout dates for players to attend; however, as stated in previous emails, your best bet is to train with us over a consistent period of time over a number of practices. The coaches will therefor be able to assess your abilities better versus a one-off appearance.
I will announce in more detail later this week the plan moving forward, but we will begin to speak to players and parents over the next few weeks about gaining commitment to the club through the summer.
Schedule
This weeks schedule is as per the normal schedule.
Kaya FC Elite U-19s & Kaya Men's team
This week proved to be a good week for our top sides, with our U-19s winning 3–2 in the WFL with goals from Enzo Jalandoni, Noc Cruz, and Mikel Maniquis. The men's team managed to pull off the biggest win of the UFL season so far with a 7–1 win over Socceroo. Three goals from Manuel Mbata, two for OJ Porteria, and one each for Toshi Hosoe and me secured the win (sorry no videos this week!). Please come out tomorrow, 7:30 p.m. KO vs Stallion or Saturday 8 p.m. vs Archers if you want to see Coach Freddy, Coach Drew, and me in action!
Website
This week's feature from Miji on the website features the story of the Celdran twins, Mikael and Matteo.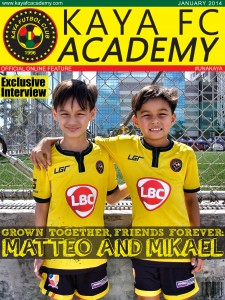 Please visit www.kayafcacademy.com each week as we write features on different players from our academy. It's a really interesting piece on two of our long standing players so please take the time to read it!
I think that's it for now. As always if you have any questions of queries let me know, if not, I'll see you out on the field.
Una Kaya, Kids!